Want to keep track of how we're doing here? Want to talk shop with fellow fans? Like us on Facebook to get up-to-date info and catch updates, or follow us on Pinterest or Flickr to get pictures and ideas for your own crunchy projects. Want an ethical and honest place to source your soap from? Check out our store on Etsy!
If you know me, you know I've been decluttering and minimizing my sheer amount of stuff for about two or three years now. I've actually cut my wardrobe down by nearly half, but I still feel overwhelmed by just how much stuff I have in my closet! So this week's mission is to declutter and sort through my clothes, and with much thought on my own go-to items and much cross-referencing with other similar lists, I've come up with THE comprehensive "basics" list for dang near every woman of any age. This list doesn't include underwear though, but honestly everyone should know to go and get really good underwear as well as a good slip and panty girdle to make this wardrobe look its best!
1. Skinny Jeans
Everyone knows that a well-fitting pair of skinny jeans is a total confidence boost! Pick a pair that is dark wash, with no holes or frays. Make sure that when you pull on the waistband, the gap between the waistband and your body fits two fingerwidths. Too tight and you get the dreaded "muffin top", and too loose means the jeans sag in the seat or fall right off. Also, be sure the seam length hits your ankle, and doesn't go past it to your heel. You want them to feel fitted throughout but still feel comfortable.
For inexpensive, surprisingly-good quality skinnies, I love the Mid-Rise Rockstar Skinny from Old Navy. These come in a HUGE range of sizes and seam lengths, so even super-tiny but average size people like me or curvy-and-short folks like my mama can find a pair! Click the picture to go to the site, or stop by your local Old Navy and ask about them.
2. Wide-Leg Jeans
Like with skinny jeans, I firmly believe every wardrobe needs a flattering pair of wide-leg jeans. And just like my skinnies, I suggest a pair of dark wash boot-cut jeans if you're not ready to take the leap into flares! Like with skinny jeans, fit is important. You want the waist snug but not tight, and the seam to hit the tops of your shoes. When you buy, go with a pair of flats and a pair of your favorite high heels in your bag and try on the pants with both shoes. Heels should resemble the model in the picture, while flats should make the hem barely touch the ground.
For jeans I can't recommend Old Navy's Original Boot-Cut Jeans enough. I have been buying these jeans first in the children's, then the junior's, and now finally the women's section for years. Like the Rockstar jeans they come in a wide range of sizes and seam lengths, so everyone can find a pair!
3. Black Skinny Pants
 Black skinny pants are a step up from your basic black leggings, a bit more grownup and polished. Like skinny jeans, the fit is very important: waist should be snug but not tight, and the inseam should hit your ankle and no lower. A good pair of skinny black pants can instantly dress up an outfit that would be too casual if put together with jeans. I love these kind of pants with a blouse and flats for a night out with family or my husband.
You can get these type of pants pretty much everywhere. I prefer Ann Taylor LOFT for pants and slacks, but Jolt's Ponte Pants from Nordstrom are an affordable alternative to my preferred Custom Stretch Pencil Pants in the Marisa Fit. The Custom Stretch Pencil Pants come in a much wider range of sizes and inseams for a wider variety of body shapes though, so it does pay to hit up a sale at The Loft and pick up a pair.
4. Dress Slacks/Khakis
These are going to be your work/formal pants, the pants that you wear to look professional or dressed-up. A good pair of black or khaki trousers is an absolute essential in anyone's wardrobe, so make sure yours fit properly. With these it may be best to take a pair that fits "well enough" to a tailor to fit them perfectly on you. Just follow the "snug but not tight" rule and find an inseam that fits about as well as the Wide-Leg Jeans mentioned earlier, and Nordstrom usually will tailor them if you ask about it at checkout. You can also get them tailored somewhere else if you find a less expensive tailor or want to use your own tailor.
Again, Nordstrom and Ann Taylor LOFT are the two best places for pants, in my opinion. The ones in the picture are Halogen's Wide Leg Pants (comes in Regular & Petite), which are a more affordable alternative to the LOFT Trousers in the Marisa Fit.
5. V-Neck Sweaters
 Or really any neck sweaters. I just personally prefer the classic look of a v-neck, but boat neck, scoop neck, turtleneck, and crew necks are equally classic and beautiful. Each sweater should hit hip-length, and should fit smoothly over your curves with no bulk or bunching. Full sleeves should hit your wrist and no further, while you have more leeway with a 3/4 sleeve or a half sleeve.
I suggest having three of these sweaters at the least: a black one, a gray one, and one in your favorite color. I own several cotton and acrylic ones from Ann Taylor The Loft, but the one pictured is an affordable alternative from Macy's made by INC International Concepts. Avoid graphic prints and appliqués. You want a basic, classic sweater that will last you years and can be dressed up or down with any bottoms.
6. Evening Top/Blouse
What I'm talking about when I say an evening top or blouse: it can easily be dressed up for an event or dressed down for work, and it's timeless enough that no one will notice that you're wearing the same top to a wedding that you are to the current event. Pick a top that you can wear out to the bar with friends or wear with a nice skirt for an office party. Go with something sleeveless, as sleeves just emphasize thicker arms and sleeveless tends to look more polished and dressy.
Every woman should own at least one nice blouse, and this one found at Forever 21 is perfect for the job. They sell several like this, and I actually own one of them. When it comes to finding inexpensive blouses, Forever 21 and H&M are your best bet for affordable ones. If you want something that will last you years and you're willing to spend a bit of money, then Banana Republic and Ann Taylor LOFT have great blouses on sale all the time. My pick from LOFT is the Pocketed Henley Shell.
7. T-Shirts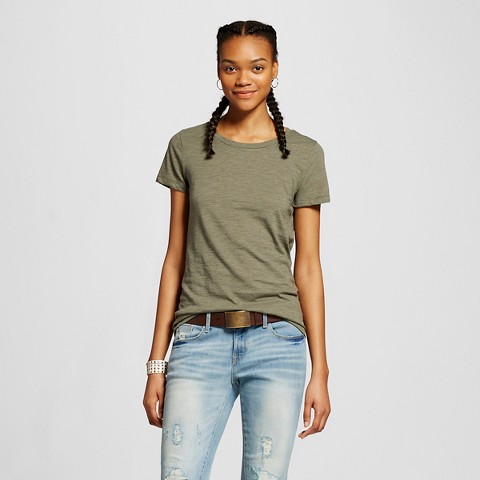 The basic t-shirt is a necessity in every closet. It can be worn to most informal events and can be worn to work, school, or to do errands with ease. It should hit your hip in length and smooth over your curves without bunching or bulk.
T-shirts can be bought pretty much anywhere, but I love Target for ridiculously inexpensive basics. Mossimo tees sell for $5 a pop and you can stock up on about any color and shade under the sun. But for the sake of this capsule wardrobe, you only need four colors: white, black, and two of your favorite colors.
For a more long-lasting option if you have the cash to spend, check out Ann Taylor LOFT or Nordstrom.
8. Tanks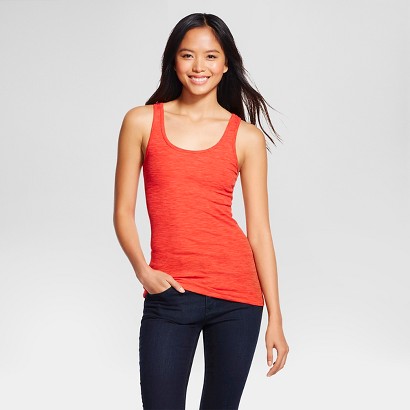 Like the t-shirt, tanks are another necessity for every wardrobe. Wear it with a skirt to work, wear it with jeans to do chores or errands, dress it up or down and it still works. It's the ultimate affordable piece.
Like tees, tanks can be bought pretty much anywhere, but I love Target for ridiculously inexpensive basics. Mossimo tanks sell for as low as $4.50 and you can stock up on about any color and shade under the sun. But for the sake of this capsule wardrobe, you only need four colors: white, black, and two of your favorite colors.
For a more long-lasting option if you have the cash to spend, check out Ann Taylor LOFT or Nordstrom.
9. The Basic Black Dress
 I don't mean a sexy dress. I don't mean a date night dress. I mean a dress you can wear to literally anything, from dressy formals to a night out with friends. The Basic Black Dress should be a classic cut (sheath, shift, cocktail style dresses) and easy to pair with accessories. This dress with be your trusty formal, so choose wisely.
Most department stores sell this kind of dress, but the one pictured is the kensie Cutout Metallic Fit & Flare Dress from Macy's. I felt it accurately represents the kind of dress you should keep in mind; it's classic, a little sparkly, and will never go out of style. I personally like to splurge on a purchase like this, so if you want something higher end look at BCBG Max Azria and White House Black Market.
10. Day Dress
A day dress is casual and fun, and easy to throw on to do errands or go out for a quick lunch with friends. It's usually made of cotton, and you can find them in tons of colors. These are the kind of dress for everyday, so splurging isn't necessary.
I admittedly am obsessed with day dresses, but for the sake of this wardrobe post try to find one that hits mid-thigh to knee and in a neutral color. Denim, white, black, gray, and navy are great choices for this, and just pair with heels and a cardigan for a casual event.
This particular one is the Sleeveless Drawstring Waist Dress (comes in Regular & Petite) from Caslon. I love the stripes and the color, which is a lovely neutral perfect for everyday. Cheaper options can usually be found at Target and Forever 21.
11. Pencil Skirt
The classic pencil skirt is best in either black or tweed. It's one of those basics that are reliable for both work, going out, and events. It dresses up or down in a flash. Pair with your blouse and a pair of heels for work, pair with flats and a tank with a cardigan for going out, possibilities are endless.
If you buy tweed, the tweed must not be shiny and should come in a classic color like gray, black and white, pink, or tan. Don't go crazy with the colors here. And if buying a solid color, keep it restricted to black or tan and don't buy something very stretchy or tight.
The picture shows a good, no-frills version from Forever 21. I own a few pencil skirts but the one I wear the most is the black one like the one shown. You can also buy pencil skirts at Ann Taylor, Nordstrom, most department stores, and even from Target.
12. A-Line Skirt
A-line skirts flatter everyone.
I'm not joking, this cut is the most flattering skirt shape I have ever seen on anyone. It's such a classic and feminine cut, and it really balances out your proportions. It can be tempting to buy a million different colors, but try to stick to a basic neutral like black, white, tan, gray, or a classic print like polka dots or stripes. The midi skirt is usually cut as an A-line so with that being the hot item at the moment it'll be really easy to find in most stores.
This red one is on Forever 21 as the Box Pleat A-Line Skirt. They have other A-line skirts for sale if you care to search, but this is the most classic version they sell. Nordstrom and most other department stores sell them as well, so you can shop around and find one that will last forever.
13. Trench/Winter Coat
Nothing, and I mean NOTHING, will work harder than your winter coat. So don't skimp on this one and buy the absolute best one you can. Stick with neutrals like black, brown, gray, or tan/camel. Or be like me and go bold with a bright red or green. I personally prefer to keep two coats, one leather and one wool. I highly suggest buying both a leather and a wool coat, because of both items' versatility. You can wear them with literally everything, and they are so comfortable and warm in wintertime.
My wool one is a red trench I bought at Nordstrom. The one shown is also from Nordstrom and it's called the Steve Madden Faux Suede Trench Coat. I highly suggest only buying winter coats from department stores or stores that specialize in outerwear or outdoors/athletic clothing. Pick a style that is classic and not trendy, for the most mileage.
14. Cardigans
How do I love cardigans? let me count the ways…they're versatile, perfect for formals and daily wear alike, great for layering, and all-around the perfect light outerwear. I don't count this sweater as a shirt because by nature a cardigan buttons up, so it's more like a jacket than a sweater.
You should buy four cardigans for your staples: black, white, gray, and your choice of color. These sweaters are one of those indispensable basics, up there with the pencil skirt or the black dress.
This particular bolero-style cardigan is available at Nordstrom as the Eliza J. Open Front Bolero, available in a wide range of colors. You can also find cardigan-style sweaters at many retail stores like Target, Forever 21, Ann Taylor, most department stores, and even Walmart. Shop around for the best price.
15. Wrap/Cover Up
The Caslon Fringe Wrap at Nordstrom is the perfect example of the wrap you need for this wardrobe. I have a lovely large gingham wrap scarf that I fly in, snuggle up in, and generally use to stay warm. It's much more comfortable than airplane blankets, I promise you that.
A good wrap is in a neutral color like tan, black, white, or gray and can be used to warm up your black dress or can be wrapped around your neck to warm up in winter. It can even be used to cover up at the pool or can be tied into a convenient makeshift cardigan in sudden cold.
You can buy these large scarf wraps anywhere from Target to most department stores, or even at stands on the street of any major city. Mine is a Mossimo one from Target, but I have another teal one I bought from a stand in the cafe of my college a few years ago that I use just as often.
16. Sneakers
When buying sneakers, you keep in mind that these are supposed to be casual shoes. They can be paired with jeans and a tee for lunch or errands, worn to family or sporting events, any low-key outing is fair game.
Keep colors simple: white and your favorite color are the only shades of kicks you really need. I have a pair of white running shoes and a pair of navy sneakers for this purpose.
I have a soft spot for Chuck Taylors from Converse, probably because it reminds me of my high school days. Keds, Sketchers, and other brands sell affordable alternatives, or you can splurge on Pumas or Coach if you're into that.
17. Flats
Flats are my weakness. I have probably WAY too many pairs. For the purposes of this wardrobe though, stick with either ballet flats or espadrilles in black, white, or a metallic.
Flats are literally everywhere, so you'll be hard-pressed to NOT find a pair you like. You can buy them at Payless (where these American Eagle Knot Flats are from) and most shoe retailers, or splurge at a department store. I think even Coach sells them, and I know Kate Spade definitely does.
I personally advise against splurging on flats though. I wear through even the most expensive flats in a matter of months, so it's not worth it to buy expensive flats.
18. Sandals
Please, for the love of all that is holy, STAY AWAY FROM THE FLIP FLOPS.
When I say sandals, I mean a sturdy leather pair of sandals that will last longer than the foam and plastic flip flops of your teen years. Invest in a sturdy pair of leather sandals in black or brown.  The one shown is the American Eagle Betsey Peep Toe Huarache, which is a nice pair from Payless that will work great for everyday.
For a dressy option, wedge sandals or heeled sandals are best, preferably in a metallic tone like gold for special events.
19. Pumps
 When it comes to pumps, do yourself a favor and splurge. Pumps are going to be your cornerstone shoe. These shoes will immediately dress up an outfit from everyday to glam. Pick a heel less than four inches and go for either nude or black heels. Don't bother buying any other color, because these two colors will cover literally every outfit item I've given you so far in this post.
Aim for pumps around $40 like these ones by BCBG at Nordstrom. Maintain them on a weekly basis by giving them a clean and a shine. Stuff them with paper and keep them in a box or a shoe bag to keep them from fading, dust, and to keep their shape. Take them once a year to be resoled and reheeled by a shoemaker. These will be an investment!
20. Boots
You only really need three types of boots: a good pair of black ankle boots, a pair of casual boots, and a pair of riding-style boots/calf boots. Boots are another item you want to splurge on, because they're an investment. These boots should last you years, and so it's important to buy good-quality boots even at a high price.
The pictured boot is what I would consider a casual boot. This pair is made by Treasure & Bond at Nordstrom, though you can find similar quality for less at other department stores. I have a beautiful pair of black booties my in-laws bought for me, and my riding-style boot is actually a pair of cowboy boots that I clean every week and rub with mink oil twice a month to keep them buttery soft and beautifully brown.
21. Crystal and Pearl Studs, Hoop Earrings
These three basic earrings are all you really need for everyday looks. A good set of pearl and crystal studs, as well as a pair of fair-sized silver hoops, can totally pull together a look. I often only go with earrings and a matching necklace most days for accessories.
Look around online and in stores to find inexpensive earrings. You don't need to spend $40 here!
22. Necklaces
Like the earrings, the most important necklaces you can have are a simple pendant, a crystal, a pearl, and a statement necklace. Go as bold or simple as you like, and shop around for a good deal! Even Nordstrom has great deals on jewelry if you look around.
23. Watch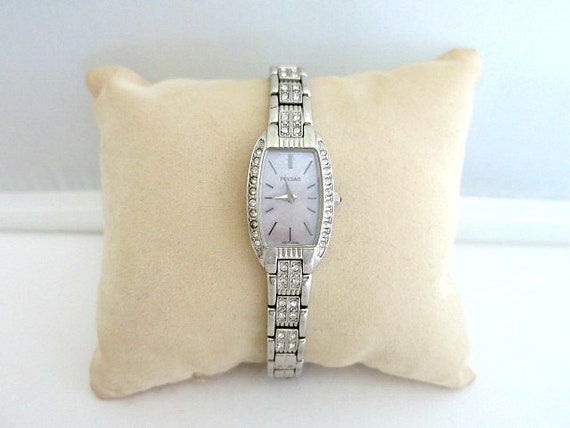 Not gonna lie, I firmly believe every woman should have a feminine, classic watch. Whether you prefer leather or metal bands, avoid trendy watches like those wrap watches or those novelty clock faces. Instead, choose a silver or gold watch with either a silver, gold, or leather band. You can find absolutely beautiful watches (like this Pulsar women's watch with crystals) on Etsy and other online marketplaces. Check estate sales in your area, or buy new. My own watch is an early Juicy Couture leather band watch.
24. Bracelets
A chain, pearl, or cuff bracelet are musts for any jewelry collection.A matching bracelet, earring, and necklace combo can really pull together an outfit, and depending on the kind of cuff you buy it can dress an outfit up or down. I love chain bracelets, especially charm bracelets, but by no means should you neglect the classic pearl or a fun cuff.
Shop around and find great deals on jewelry, and don't neglect the sale sections of high-end department stores like Nordstrom and Neiman Marcus. I love the look of this Kate Spade bangle from Nordstrom, but you don't have to pay that price tag! Fun cuffs can be found even at target, as can chain bracelets. Of course you're free to splurge if you want; I suggest Juicy Couture, department stores, and Etsy for interesting finds.
25. Cocktail Ring
Cocktail rings, like a statement necklace, make an impact on outfits. They're wearable conversation pieces, something that makes people stop and stare.
Pick something fun or flashy, that can also be mixed with your basic bracelets, necklaces, or earrings.
Cocktail rings are available at most clothing retailers, but even the department stores have good deals on this kind of jewelry. These three rings are a $15 set at Nordstrom.
26. Belts
A good belt isn't hard to find. Most women only need a black belt, a brown belt, and a waist-cinching belt to get by. Belts are a great addition to any wardrobe and can help a lot if your weight fluctuates.
Functional leather belts can be found in every retailer from Target to high-end department stores. Look for a trouser belt made of sturdy, thick leather or faux-leather, and get one in black and brown. These will be your basic pant and skirt belts. The one shown is from Nordstrom, made by Amici Accessories. Similar belts retail around $14.
For wide waist-cinching belts, I've always found Claire's to be the best place for inexpensive fashion belts like that. Be warned that their "one size" belts are not really one size if you're especially tiny or especially heavy.
27. Purses
There are some places in your wardrobe where you should save money. This isn't one of them.
I absolutely refuse to skimp when it comes to purchasing a clutch and a daily bag. Right now I love Kate Spade bags for their durability, and if you shop their outlet stores you can get really good deals on their shoulder bags and small bags. I insist that people do spend a lot on a good designer bag that doesn't have any branding or logos printed all over it.
For minimalism's sake, choose a black leather shoulderbag and a metallic or colorful clutch. Designer doesn't have to be expensive, so look out for sales and outlet stores for these big-ticket items to save money on high quality bags. These should last you years, and should be reliable even for the hardest purse owner.
28. Tote/Weekend Bag
Every woman should have a good tote bag or weekend bag. This is a bag big enough to carry a couple days' worth of clothing, a few toiletries, and a laptop and won't wear out on you. This is the bag you take to farmer's markets, to hold your sunscreen and towel for an unexpected beach trip, or any sort of short trip.
Leather is the best option for a tote (preferably in tan or black), and I prefer to shop department stores for relatively inexpensive leather totes instead of brand names like Kate Spade. I love Kate Spade, but while I will spend $200 on a purse I use everyday I won't spend that much on a tote I only use every so often.
If you use a tote bag often or just prefer larger purses, then I do suggest spending a little. But if, like me, you rarely use a tote unless you're going on a trip or something then it's probably better to not.
29. Sunglasses
I can't live without a good pair of sunglasses, and neither should you. Sunglasses protect your eyes and the skin around your eyes from the damaging rays of the sun, and prevent fine wrinkles from forming as a result of sun damage. So yeah, invest in a pair of sunglasses.
Look for frames that flatter your face. Rounder faces can get away with larger lenses, while oval faces need frames that are horizontally rather than vertically wider, and would fare better with a classic cat-eye or a rectangular frame.
I personally own a hand-me-down pair of Juicy Couture sunglasses, but you don't have to splurge. This pair is from Nordstrom and cost only $14.
30. Scarves
There are three main types of scarf a woman should own: a silk scarf, a wool scarf, and a simple cotton pashmina. All three have their place in a wardrobe, and this one is no different. Silk scarves are lovely and light, perfect for spring and summer. You can wrap your hair in them, wear them around your neck, tie them into tops, all kinds of ways! Meanwhile, a wool scarf is meant for wintertime cold. It helps regulate body heat and is great for wrapping around your neck outside and becoming a wrap inside. A pashmina is great for fall and chill-but-not-freezing weather. Wrap it quickly around your hair to keep from getting wet or wrap around your neck to keep out the fall chill.
Scarves are sold at most major retailers, though silk is usually expensive and easier to get at a department store 9like the silk one pictured from Nordstrom).
And there you have it! These thirty staples of a woman's wardrobe will provide tons of outfits without overwhelming you. The goal of a capsule wardrobe like this is to eliminate clutter and minimize the stress of finding something to wear. With a lot of creativity ANYONE can dress themselves with only these items. And if you want to get started decluttering and putting this wardrobe together, I have a free printable for you!